Supersports DMT&SMT Programs
STORE MANAGER TRAINEE (SMT)
• Age 25 - 35
• Minimum Bachelor's degree in any field (with GPA 2.5+), with 3 years of working experience
• TOEIC score ≥ 600 would be advantage
• With the potential to be at least Store Manager or District Manager
DEPARTMENT MANAGER TRAINEE (DMT)
• Age 21 - 25
• Bachelor's degree in any field (with GPA 2.5+)
• TOEIC score ≥ 550 would be an advantage
• With the potential to be at least Store Manager

Department Manager Trainee (DMT)
หน้าที่ความรับผิดชอบ
• ควบคุมการปฏิบัติงานให้เป็นไปตามมาตรฐาน
• บริหารจัดการรายการสินค้าในแผนกให้ถูกต้องตามกำหนด
• จัดตารางงานพนักงานให้เหมาะสม
• บริหารยอดขายให้เป็นไปตามที่บริษัทกำหนด
คุณสมบัติ
• วุฒิการศึกษา ปริญญาตรี
• คณะการจัดการธุรกิจค้าปลีก,คหกรรมศาสตร์,อาหารและโภชนาการ หรือ ที่เกี่ยวข้อง
• มีทัศนคติที่ดี รักงานบริการ
• พร้อมเรียนรู้ และพร้อมฝึกฝนพัฒนา

Operation Management Trainee (OMT)
OMT or Operations Management Trainee is the project for new generation who graduated in Bachelor degree, and does not need to has working experience. The project is looking for the position of DSM or Department Sales Manager who is mainly responsible for managing sales, staff, stock, and services. In addition, OMT is the opportunity for new graduated student who especially interested in operation field.
Qualifications:
• Age 21-25
• Bachelor's degree in any field (With GPA 2.5+)
• No working experience required
• Good personality and attitude
• Good command of both written and spoken English
• With potential to be at least Store Merchandising Manager, and Store General Manager
• TOEIC Score > 550 would be advantage

Retail Management Trainee (RMT)
RMT or Retail Management Trainee is the project for people who interested in operations field, and graduated at least in Bachelor degree, as well as has potential with 3 years working experience in minimum. The project is looking for the position of SMM or Store Merchandising Manager is the key factor in operations field who has the responsibilities of organizing, managing, and driving subordinates and works following the plans to achieve the organizational goals.
Qualifications:
• Age 25-35
• Minimum Bachelor's degree in any field (with GPA 2.5+) with 3 years working experience
• Very good command of both written and spoken English.
• Strong leadership skill and be able to work under pressure.
• With potential to be at least Store General Manager, and Head of Operations.
• Strategic and critical thinking required.
• TOEIC Score > 600 would be advantage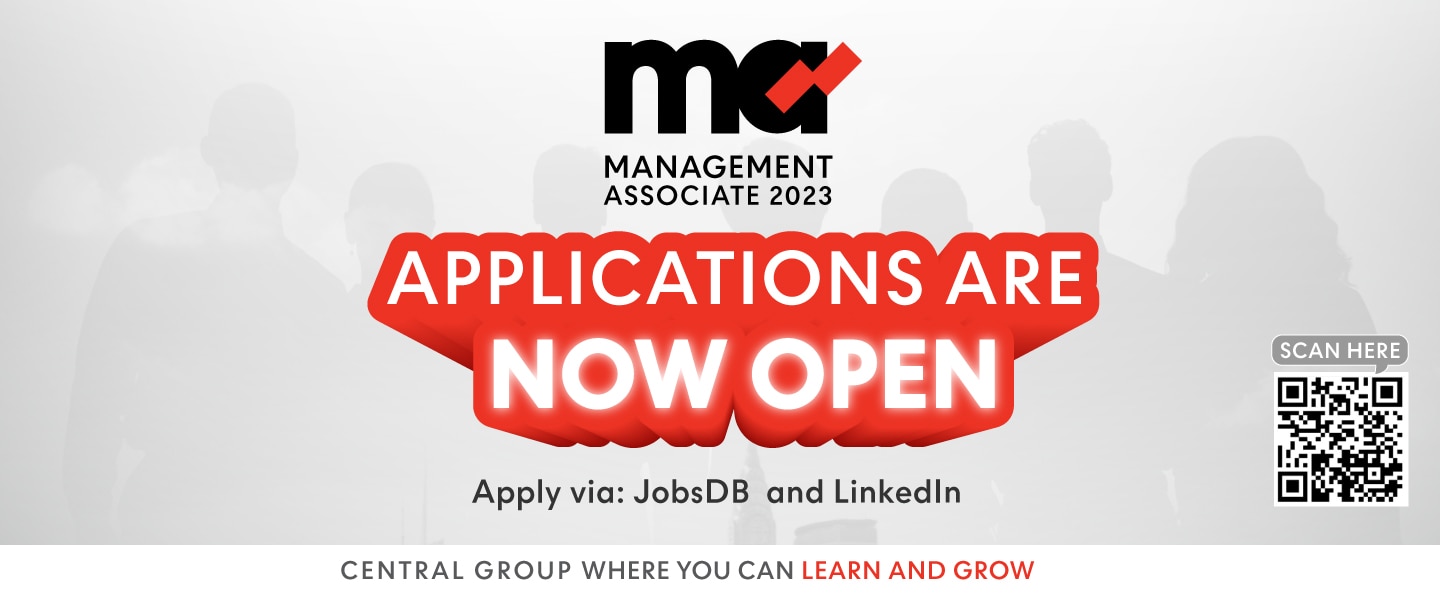 ProNext 2023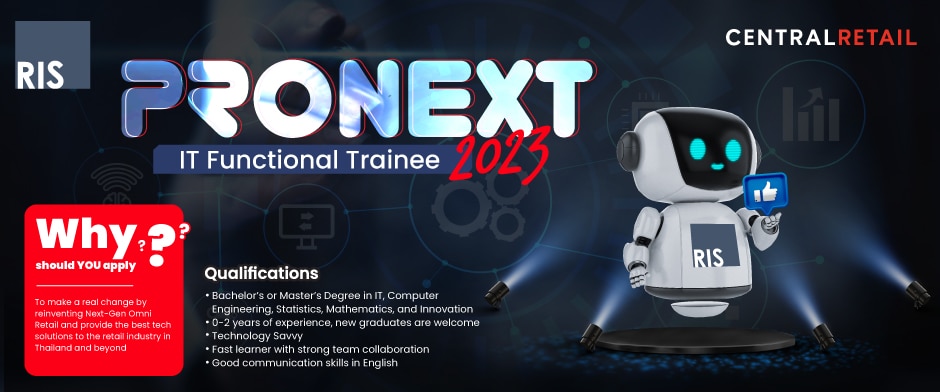 สายเทคห้ามพลาด! PRONEXT Program เปิดรับสมัครคนรุ่นใหม่ (ไม่จำเป็นต้องมีประสบการณ์) เพื่อมาร่วมสร้างความเปลี่ยนแปลงให้กับโลกการช็อปปิ้ง หากอยากเรียนรู้ และลงมือทำจริงเพื่อเติบโตในสายเทค